REGISTRATION NOW CLOSED
Thanks for a great year of camp,
and
we
look forward to seeing you all next year!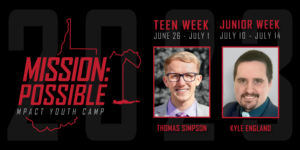 CLICK BELOW TO DOWNLOAD YOUR FREE CAMP BROCHURE!
What to bring:
Bible, notepad, pencil, bed linens, pillow, warm sweater or jacket, toilet articles, swimsuit (one piece for girls), ball glove, water bottle, sports clothes for activities, dress clothes for the evening services, spending money for the snack shop, and large bag for dirty clothes. Please label all belongings. Girls, don't forget skirts or dresses for the services; Guys, don't forget collared shirts and khakis for the evening services.
Any type of electronic device including (but not limited to) cell phone, CD/DVD/mp3 or other music/media devices. computers, PDAs, radios, TVs, video games, fireworks, tobacco, alcohol, drugs, guns, knives, magazines, T-shirts with worldly advertising, immodest clothing, bad language or an un-Christ-like attitude.
Registration is 10:30am to 11:30am on Monday. The camp program begins at 12 noon. Registration will not be open prior to 10:30am. Camp ends at 9am on Saturday. The preaching services and teaching classes are for campers and are NOT open to the public.